The new elegant
Town House Fontana di Trevi
is located in a prestigious position at only 25 meters from the world famous
Trevi Fountain
. This late Baroque creation is one of Rome's unforgettable sights. In 19BC Agrippa decided to build a long canal to bring water to Rome. Pope Nicholas V commissioned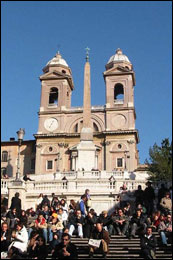 Spanish Steps
Gian Lorenzo Bernini to create the actual fountain but the project was abandoned after the death of Pope Urban VIII in 1644. In 1732, Pope Clement XII employed Niccolò Salvi to continue the work, and the result is a Baroque masterpiece. The fountain has a scenographical effect, guaranteed by the restricted space of the surrounding, which presents itself as a theatre. The central niche depicts Neptune riding a chariot driven by sea horses and the water flows over rocks before collecting in a pool below. According to legend, if you throw a coin into the water by expressing a wish, your wish will become true and you will certainly return to the Eternal City. Just 5 minuted walking from Fontana di Trevi you will find
Piazza di Spagna
, one of the most beautiful square in Rome and the Spanish Steps, one of Rome's most famous sight, due to their popularity as meeting point and to the position at the heart of the city's shopping area. From the upper terrace there is an excellent view of the city. The strategic position of the Town House Fontana di Trevi offers you an excellent starting point to visit all other monuments and museums of Rome; just a few meters far from the accommodation there are the subway stations of "Barberini" and "Piazza di Spagna" that can get you to St. Peter's, Vatican Museums and Colosseum in less than ten minutes. Vatican area will surprise the visitor with its unique charm, thanks to the majesty of
St. Peter Basilica
, the
Vatican Museums
, the
Sistine Chapel
, the
Raphael Rooms
, the
St. Angel Castle
which draws pilgrims and tourists from all over the world. The famous Colosseum, the big Arch of Costantin and the fascinating Roman Forum capture the visitor's imagination with their archaeological sites. Quite close to Palatine hill, you will find the well-known Emperor Nero's golden house, the Domus Aurea. In Fori Imperiali street you can also discover the ancient Trajan's Forum and the Forum Caesar. Then you will enter in the spectacular Venice Square, with its imposing Victor Emmanuel II Monument and the National Shrine. In ten minutes walking you will also reach the charming area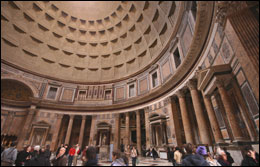 Pantheon
around the
Pantheon
and
Piazza Navona
.
The
Pantheon
was a temple dedicated to all the gods built by Agrippa in 27BC. In AD80 it was damaged by fire and restored by Domitian. Then Emperor Hadrian (117-38) rebuilt it. The temple was closed in the 4C by the first Christian Emperors but in 608 it was reopened and converted into a church dedicated to S. Mary ad Martyres. The Pantheon presents an hemispherical dome, whose hole at the top provides the the only light. Today, one of the chapel inside, contains the tomb of Vittorio Emanuele II (1820-78), the first king of unified Italy and the tomb of Raphael (who died at 37 years old in 1520).
Piazza Navona
is one of the most characteristics places which recalls the eternal spirit of Rome. There are three gorgeous fountains in the square: the one of the Rivers (created by Bernini), the one of the Moor and the fountain of Neptune.
So, let's start visiting Rome from the Town House Fontana di Trevi and have a nice holiday!